Ground reality
Given the intelligence we have, so far, very few cases have permeated into the tribal areas of these districts where LAYA primarily operates. However, from the reports we have received over the telephone from our field teams the issues are the following:
Fear and insecurity
Understandably there is a general paranoia of the danger related to covid-19. Several villages have had themselves barricaded. Social distancing norms are to an extent not fully understood or being practiced. There is also a general lack of awareness about how the virus spreads or what precautions could be taken to ensure safety. In addition, precautionary material such as masks and sanitizers are not easily accessible.
Access to vegetables
Since weekly markets have been suspended, access to vegetables for the communities based in remote areas have been limited. Wherever vegetables are available, they are so expensive that the community cannot afford them. Consequently, in many of the interior areas people are surviving on food without vegetables with just the basics of rice and lentils.
Selling of agricultural produce
Due to the lockdown, communities in remote areas are unable to mobilize their agricultural produce to a central selling point and hence are faced with a loss of income.
Access to entitlements
The government has been fairly proactive in terms of delivery of the Public Distribution System for essential groceries and providing basic financial aid in this time of crises. The state government especially has done very reasonable work in ensuring that basic needs are being fulfilled. The Centre has also announced several schemes to support the poor financially. However, access to these schemes particularly (Central government) is hindered in actual delivery with the requirement of certain kinds of documentation, bank linkages which at this time is not easily managed.
Stranded migrant labour
Many of the migrant population from the tribal areas were able to return just before the lockdown. Very few groups of people have been stranded in other parts of the state/country. The groups that are stranded are in touch directly with our field personnel and are being supported by their contractors with respect to access to basic food and accommodation.
LAYA's response
In the early days of the lockdown the LAYA field personnel based in various districts were doing their best to collect intelligence on the situation and strategize on the best immediate course of action.
Awareness and distribution of precautionary material
10 days before the outbreak of COVID-19, in districts of LAYA's work area, 3 health camps were organized by the Herbal Based Health Care team. 5000 people were offered homeopathic preventive medicine Arsenicum Album 30. Over time 2100 masks were procured through local tailors and distributed to the community. In addition, a small number of Hand Sanitizers were also procured and applied as precaution in the distribution process.
Awareness campaigns were conducted with the help of posters, pamphlets and announcements over loudspeakers on entitlements and safety precautions related to COVID-19. This was done in the tribal area of 3 districts across 319 villages.
Providing access to vegetables at subsidized rates
The field personnel procured vegetables from wholesale markets (priced reasonably) and made available the produce at subsidized rates. The idea was to enable access to an assortment of vegetables at very reasonable prices so that the communities (especially women and children) are not deprived of nutrition. 7908 families across 232 villages were able to benefit from this process.
It is good to note that the areas where LAYA has promoted sustainable farming practices the farmers indicated that the vegetables that they had grown in their kitchen gardens and homesteads helped them to tide over the crisis.
Connecting communities with selling points
Where possible, the field personnel facilitated contact with government trading agencies, private traders and collection depots to enable collection of local produce directly from the farmers. These agencies responded by sending vehicles to procure the produce as well as making relevant payments.
Facilitating access to entitlements
The communities are by and large receiving their entitlements (mainly from the State Government). Some have also received money from Central Government schemes. However, many have been left out because of the lack of proper documentation especially bank linkages. LAYA is helping facilitate these entitlements to various schemes offered by the Central and State government.
Coordination with stranded migrant labour
A group of 13 members from the tribal area of East Godavari were stranded in Chitoor district and another group of around 160 were stuck in Duvvada, Visakapatnam area. LAYA initiated contact with these groups and advised them to stay where they are till the lockdown measures were relaxed.
Collaboration with Civil Society Organisations
Wherever possible, LAYA collaborated with civil society organisations, NGOs and CBOs to deliver on basic needs during the Lockdown.
In Srikakulam and Vizianagaram district much of the work was done in collaboration with local CBOs, most of whom have participated in our training and capacity building initiatives over the years.
In Visakhapatnam district, through a collaboration with Azim Premji Philanthropic Initiatives (APPI, Bangalore) and Water Watershed Support Services and Activities Network (WASSAN, Hyderabad) we were able to provide basic grocery kits for 36 villages outreaching 1400 households. In specific cases where the community members did not have PDS cards they were offered an additional 25 kilos of rice.
Monetization of LAYA's work on COVID-19
LAYA has been able to facilitate approximately 1 Crore INR in terms of access to entitlements to various schemes as well as mobilized our own resources to respond to the pandemic and the lockdown.
Support facilitated through
Families/
Individuals
Extent of resources
mobilized in INR
1. Pradhan Mantri Jan-Dhan Yojana
(Central Government scheme to deposit INR 500 in account as part of COVID-19 relief)
387
193,500
2. YSR Rythu Bharosa Scheme
(Central and State Government scheme to support farmers)
@INR 13500/Per year
1320
7,818,000
3. Mahatma Gandhi National Rural Employment Guarantee Scheme (MGNREGS)
18
50,400
4. Jagananna Amma Vodi Scheme
(State Government scheme to provide financial aid to enable mothers [BPL] to educate their children till 10th Standard)
@INR 15000
69
1,035,000
5. State Government Scheme for BPL Families
@INR 1000
22
22,000
6. YSR Jagananna Vidya Deevena Scheme
(State Government scheme to facilitate the reimbursement of college fees for poor families)
@INR 20,000
3
60,000
7. Pensions for old age / widows
(State Government scheme to provide pension)
@INR 2250)
21
47,250
8. YSR Cheyutha Scheme
(State Government scheme to support small scale business with financial support)
1
15,000
9. Access to vegetables from the wholesale markets to the community
(Mobilised own resources)
7908
526,655
10. Distribution of masks during the early stages of COVID-19 and the lockdown
(Mobilised own resources)
2100
31,500
11. Material support to community tailors to make and sell masks
(Mobilised own resources)
5
50.000
Total
97,99,355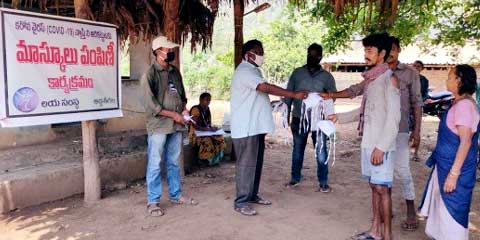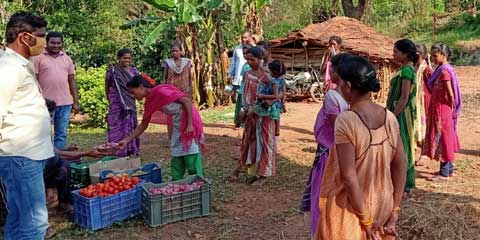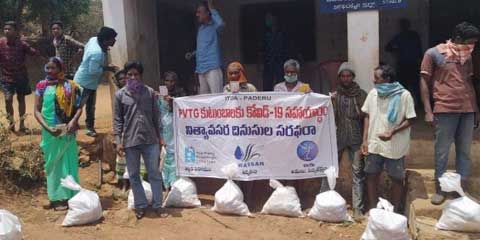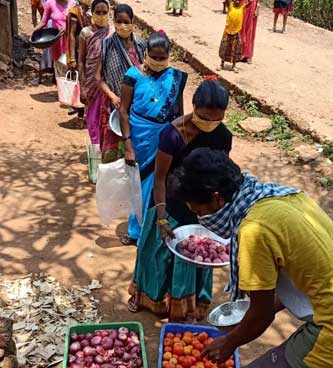 Precautionary Measures for LAYA to prevent the spread of COVID-19 at our various workplaces
| Equipment procured | Quantity |
| --- | --- |
| Infrared Forehead Thermometer | 10 |
| Foot Operated Hand Sanitizer Dispenser | 8 |
| 5 litre pack of hand sanitizer with 80% alcohol content for sanitization and hand rub | 20 |
| Cotton nitrile gloves with rubber base | 59 |
| N95 face masks for the team | 350 |
| Disinfectant spray machine | 5 |
Asha Kiran, has been the sole institution to support us directly to facilitate relief measures for our teams across the remote tribal areas of Andhra Pradesh. In many ways this gesture has brought some confidence to continue our work in whatever way possible. The equipment we have procured with the help from the funds received from Asha Kiran has been distributed to our field centers in Addateegala, Paderu, Rajahmundry, Rampachodavaram, Seetampeta, Vanantharam and Visakhapatnam.
The PPE to protect our staff has helped us work better and has been made accessible to all our team members and field volunteers. All our offices are also equipped with protection gear that enables regular sanitization to offer protection from the pandemic.
We thank Asha Kiran for helping us meet the challenges of this moment, so we can continue to provide the highest order of service with inclusion, integrity, compassion, accountability, respect, and excellence to the communities we work with.