WHO WE ARE
Looking Backward.... Looking Forward
Evolution of Laya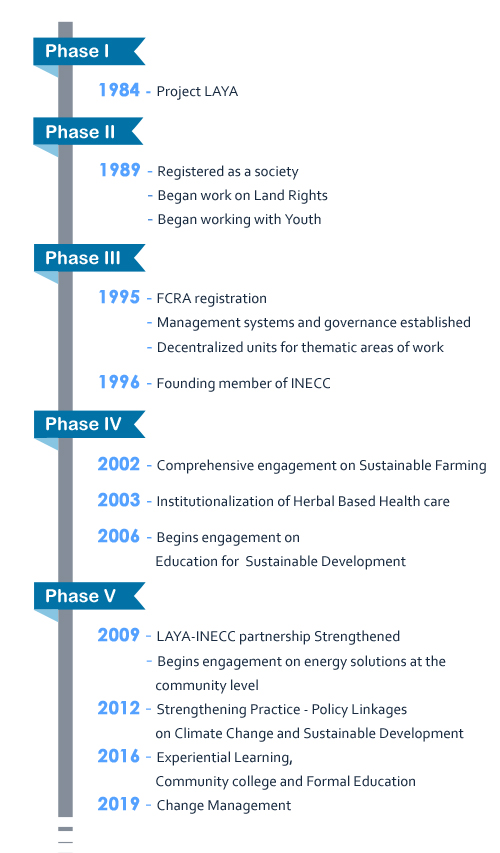 Laya's journey began in 1985, when the current directors set foot in a remote adivasi area of East Godavari District in Andhra Pradesh. Ever since, the Laya team has traversed a long and winding road, parts of which were arduous and parts that were comfortable to tread. However, the path taken has been full of lessons learnt along the route and the way forward has always been exciting…
Over time, our involvement comprises various phases of engagement:
The years 1984 to 1989 could be considered as the first phase, during which the entire Laya team was based at Addateegala, East Godavari District. The initial learning of the world-view of the adivasi communities came from day to day interactions with the local representatives. We began to understand the nature of the symbiotic relationship of land and the well-being of adivasis. Laya has been involved in identifying issues of concern for local communities, such as:
Learning and responding to issues of land alienation
Access to forests
Depletion of water resources
Lack of access to government programs
Issues related to agricultural credit
Lack of access to education.
During this time, various initiatives on health, primary education, social forestry and local empowerment were being set-up.
The second phase, between 1989-1995, saw Laya being independently registered as a society. It was at this time that the Laya Resource Center was established at Visakhapatnam. Various initiatives and concepts were developed during these years:
Evolution of the youth agenda
Alternative education processes
Engagement in herbal based health care
Exploration of a field base in the remote adivasi belt in Visakhapatnam district
Campaign on displacement along a major river belt in the Eastern Ghats
Introduction of the decentralization process in the management of various Laya
program initiatives.
Post 1995, the third phase, Laya was registered under the Foreign Contribution and Regulation Act. This registration made it relatively easier to access resource support from external agencies based outside the country. In the process, we developed systems of management and governance mechanisms and systematic intervention strategies through the unit approach. Today, the units are the backbone of the structural growth of the Laya Resource Center and they embody an effective decentralization process.
The key units comprise of:
Alternative documentation, Networking and campaigns
The Directors of Laya focus on linking micro concerns with macro issues; on networking and resource raising measures. An unintentional involvement of one of the Directors with climate issues in 1993 has now led to a full-fledged involvement of Laya Resource with climate change concerns, nationally and internationally. Laya Resource Center acts as the secretariat of INECC, of which it is a founder member and the Executive Director, its Convener.
Journeying through years of experience, Laya Resource Center is now grappling with conceptualization and engagement of 'education for sustainable development goals' in the context of a paradigm shift of development concerns. Laya is also promoting meaningful interventions which are related to social enterprise as part of its efforts towards becoming increasingly sustainable in the years to come.