CLIMATE NEUTRAL VILLAGE
Climate change has already affected the day-to-day living amongst our communities. It has now become apparent that communities, especially those dependent on rain-fed farming for their basic food needs are vulnerable to changes in quantity and frequency of rainfall. Frequency of droughts and floods has served as major pitfalls in sustaining agriculture productivity. What is obvious is that climate change will continue to affect those communities that have least contributed to it.
In effect, the idea of CNV stems from the notion that resources are required to build the resilience of communities to withstand and cope with the impacts of Climate Change. The need is for monitory resources to develop structures that facilitate Adaptation to Climate Change as well as promote mitigation with Leap frog low carbon technologies for sustainable living. CNV seeks to raise resources for adaptation and mitigation for poor communities in rural and tribal regions in a manner that is predictable, sustained and transparently accounted by the community themselves.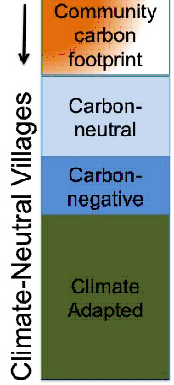 CNV is a structured process that uses a community's carbon footprint to raise financial resources for climate-vulnerable communities.
It uses CSR (corporate social responsibility) funds to help a community neutralize its carbon footprint
Become Carbon-Negative, and to then
Cope with and adapt to the effects of climate change.
The Way It Works
The actual accounting of activities is done through generation of units CgCUs (Community-guaranteed Climate Units) as CNV is sited at the intersection of mitigation and adaptation units.